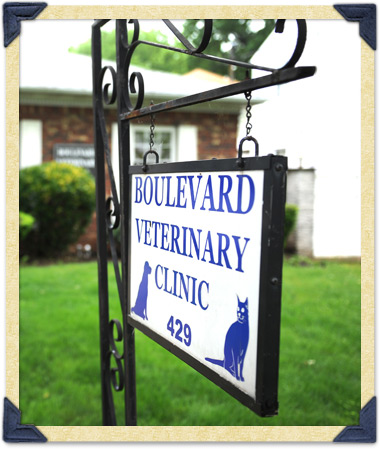 Boulevard Veterinary Clinic has been serving the Kenilworth NJ area with high quality veterinary care for more than 25 years. We treat many pets including dogs, cats, birds, reptiles, rabbits, and small mammals.
Because of our commitment to quality care, pet owners have come to rely on us as a compassionate, skilled partner in the care of their beloved companions. When your pet receives proper veterinary care, he or she has the best chance of living a long and happy life.
Part of our commitment to providing quality care is that we are also diligent about promoting client education and responsible pet ownership. We work closely with you to understand your pet's unique health needs and to develop a preventive care plan that best meets those needs.
We recognize that providing the highest quality veterinary care includes keeping our clients at the center of all we do. After all, we are pet owners ourselves and understand how important it is to be received and treated by a staff that is knowledgeable, welcoming, and courteous. Our goal at Boulevard Veterinary Clinic is to ensure the health and wellbeing of your pet and also to help strengthen the bond you share with your pet.
Please take a look around our website. Many of the pet services that we provide are listed along with information about our doctors and staff members. Give us a call at 908-276-1661 to set up an appointment today!
Kenilworth, NJ Location:

429 Boulevard
Kenilworth, NJ 07033
PH: (908) 276-1661
FAX: (908) 276-7131

Union, NJ Location:

1067 Commerce Ave
Union, NJ 07083
PH: (908) 378-5188
FAX: (908) 378-5543

Hours of Operation

Monday-Friday 8:00 am - 7:00 pm
Saturday 8:00 am - 1:00 pm
Sunday Closed

Hours of Operation

Monday-Friday 8:00 am - 7:00 pm
Saturday 8:00 am - 1:00 pm
Sunday 8:00 am - 1:00 pm
We accept cash, all major credit cards and personal checks. Payment is due when services are rendered.
Community Service
We work with the local schools. We work with local Rescue Organizations who help treat and find homes for pets in need. We offer job shadowing programs with our veterinarians to local high school students over the age of 16. We support the local high school yearbook, high school athletics and the Parent Teacher Organization.